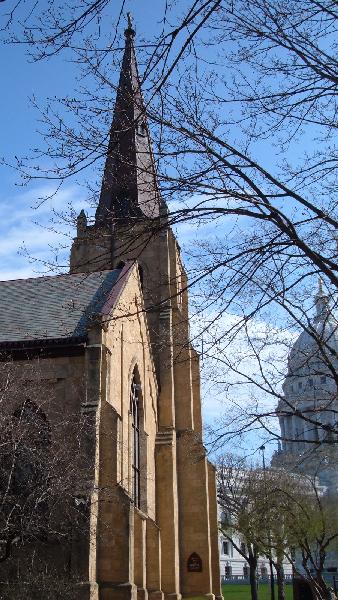 Grace Episcopal Church, on the Capitol Square at West Washington Avenue, Madison, Wis.
Lesbian and gay couples were invited to a special church service celebrating and blessing their relationships the evening of Saturday, July 8 at Grace Episcopal Church on the Capitol Square during Madison's annual Gay, Lesbian, Bisexual and Transgender (GLBT) Pride weekend.
Clergy and parishioners from several GLBT-affirming churches in the Madison area led the celebration, with participation by the very gay-friendly Perfect Harmony Men's Chorus. Mixed-gender couples, friends and family participated as well in the event, which became the lead story on that night's TV news on both Madison's WISC (CBS) and WKOW (ABC) affiliates.
At the Pride Picnic earlier Saturday in Brittingham Park, and prior to the service at Grace Church, volunteers helped couples create signs to hold for the photograph and eventually in Sunday's Pride Parade, showing their names and the number of years as a couple.
Immediately after the service a group photo was taken with the Capitol as a backdrop, after which I/D members served cake and refreshments back across the street at the church.
ANNIVERSARIES: For some, the event served as an anniversary celebration. "My partner Brian and I held a Holy Union ceremony 11 years ago in July," said Ken Scott, of Mt. Horeb, one of the event organizers. "Of course our relationship is between us and God. But that public blessing helped our relatives and friends understand that we'd become not just devoted roommates, but a family."
SUPPORT: For others the event presented a safe place for rejuvenation. "Recognizing our years of commitment is very important, and something I don't get enough of," said Liz, of Janesville, who will participated in the service with her partner Amie. "This event is something that'll build us up. That's how I see church."